I'm introducing Hollywood romantic comedy movie 'Crazy Rich Asians' directed by Jonathan Murray Chu. It is based on the 2013 novel of the same name by Kevin Kwan who is from Singapore.
Last time, I introduced the beginning part of the film locations taken in Singapore and Malaysia.
[ Link: The film locations of 'Crazy Rich Asians': Part1 ]
This time, I will continue the topic, the details of film locations.
Here I will introduce the location details following the story explaining the movie scene itself. Therefor if you've never watched the movie yet, it is better to read this post after watched the movie.
(Mainly I referred following Wikipedia's information and many news sites. [ https://en.wikipedia.org/wiki/Crazy_Rich_Asians_(film) ] )
[Crazy Rich Asians' Director Breaks Down a Scene]
(Jonathan Murray Chu is explaining the scene that Rachel was invited Nick's gorgeous house in the first time.)
[Details about the film locations Part2]
[Accommodation in Singapore: Raffles Hotel]
In the first night in Singapore, Rachel and Nick stayed at Raffles Hotel which is really famous and expensive hotel located near City Hall. It was opened in 1887, they are very historical luxury hotel. Many celebrities have stayed at once.
Speaking of Raffles Hotel, it is famous as the birthplace of 'Singapore Sling'. Singapore Sling is very popular all over the world, but you can taste the original Singapore sling at the Long Bar at Raffles Hotel. I think it is about 30 dollars per cup. It is expensive, but if you've never tasted, how about trying it once.

[Warner Bros.]
[ https://www.raffles.com/singapore/ ]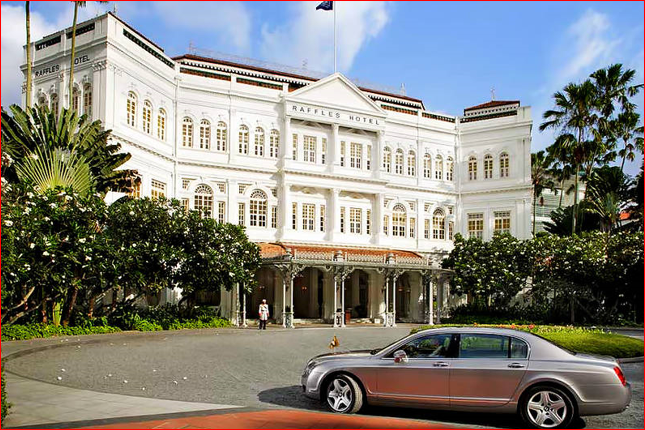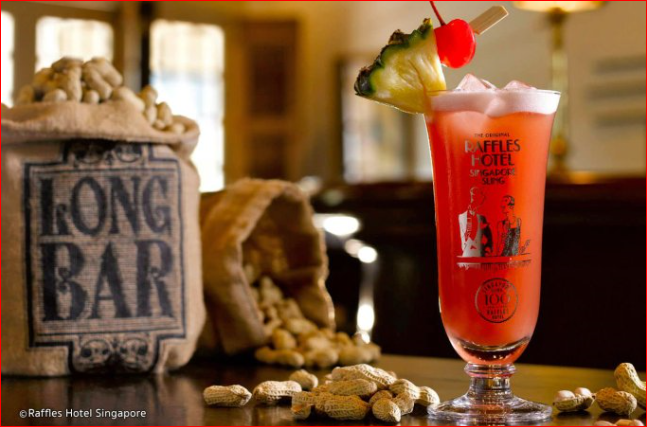 [House of Peik Lin who is Rahel's friend: Cluny Park]
After that, Nick go to his parents' hose alone, and Rachel went to her friend's house. Her name is Peik Lin, she is Singaporean. At there, Rachel will know she is also daughter of very rich family. (However it is lower than Nick's family.)
The gorgeous house is located in Cluny Park next to Singapore Botanic Garden. Due to add more gorgeousness to the house, the director added more pillars than actually there are. According to those photos, yes, looks like they did.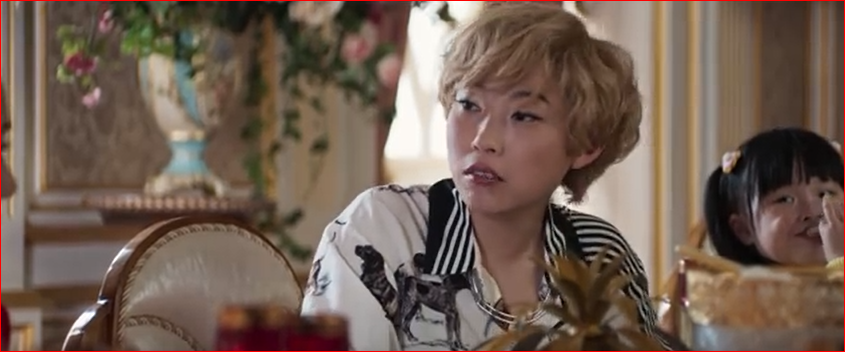 [Warner Bros.]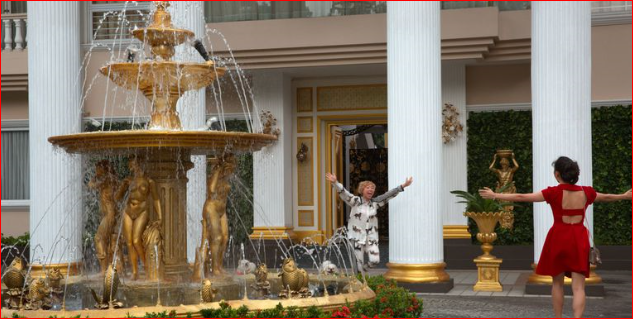 [Warner Bros.]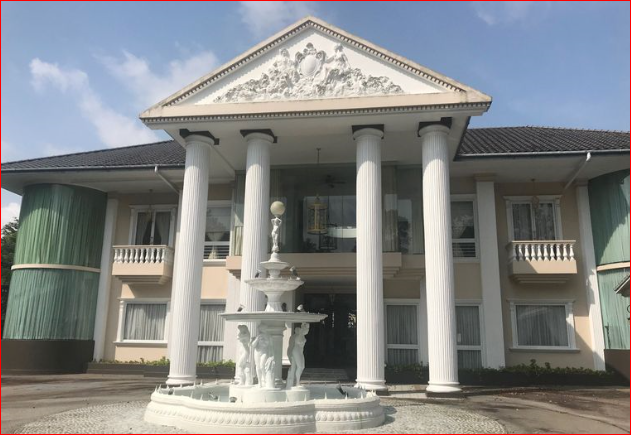 [Luxury jewelry store Astrid come: St. Regis Hotel in Kuala Lumpur]
There is a scene Nick's cousin Astrid bought very expensive jewelry at special room of luxury jewelry store. The shot was taken at Astor Bar located at St. Regis Hotel in Kuala Lumpur. In the film, it was changed from bar to luxury jewelry store.
In Singapore, there is also this hotel, so I'm not sure the story setting is in Singapore or Malaysia, because I think those rich people go to Kuala Lumpur just for shopping from Singapore.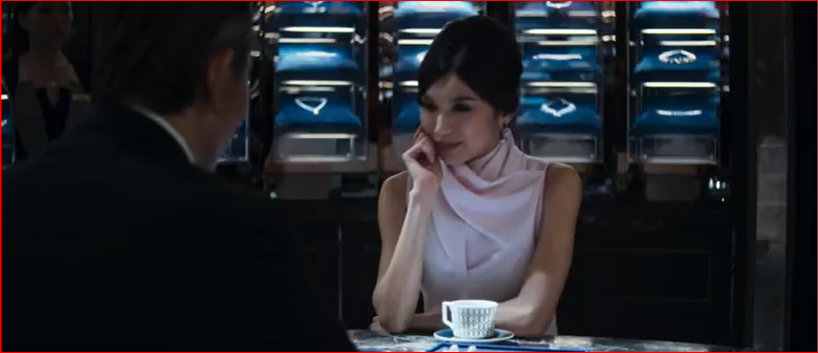 [Warner Bros.]
[ https://www.marriott.com/hotels/travel/kulxr-the-st-regis-kuala-lumpur/ ]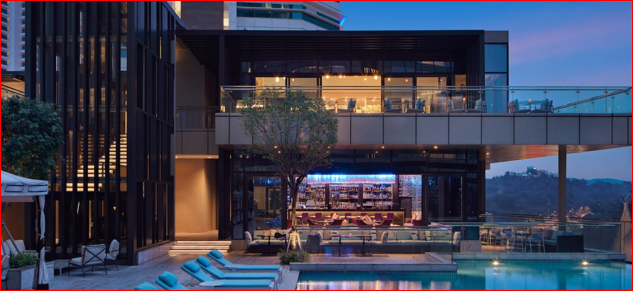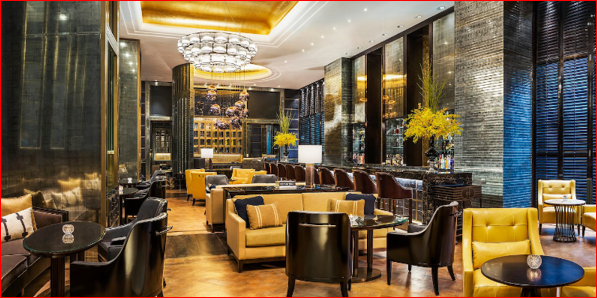 [Nick's parents' huge mansion: Carcosa Seri Negara in Kuala Lumpur]
Rachel headed to Nick's parents' mansion with a car of her best friend Peik Lin. In the scene, they ran in the dark woods by car, finally got to see the gate with securities. The extremely vast site is described there by after passing through the gate, still driving more by car to the house.
This mansion of Nick's parents is located in Tyersall Park as the story setting. The area is a historical estate currently restricted to enter, near Singapore Botanic Gardens. Once the area belonged to Malaysia Johor state, then Singapore Government finally had acquired it in 1990.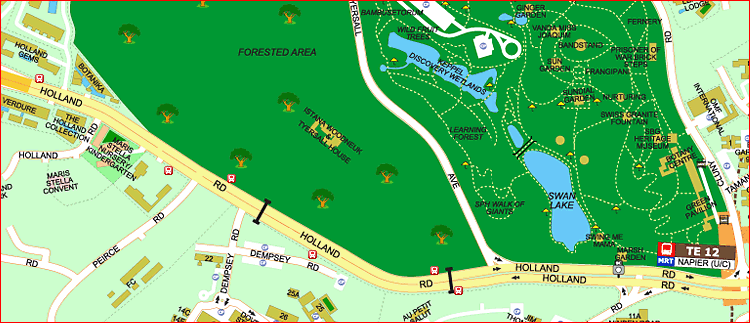 The actual shot was taken at historical luxury hotel, Carcosa Seri Negara located in Perdana Botanical Gardens in Kuala Lumpur. It is a good place that fits the gorgeous image of Nick's house. This house was also added more gorgeousness in the film by computer graphics. Like adding a pond in front of the house. Off course, because this is in Malaysia, so those Singapore high buildings in the back are CG.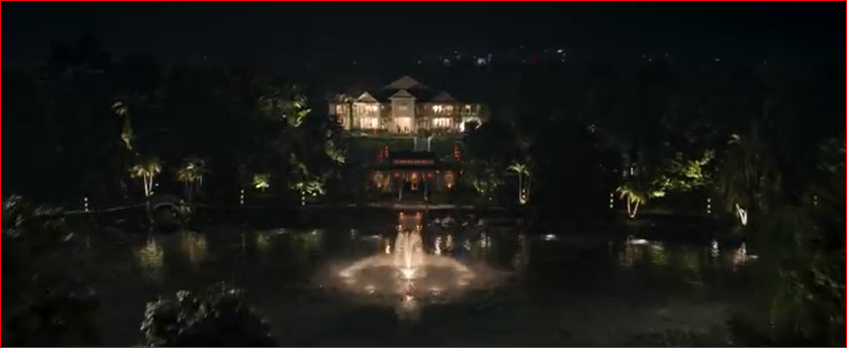 [Warner Bros.]
[Warner Bros.]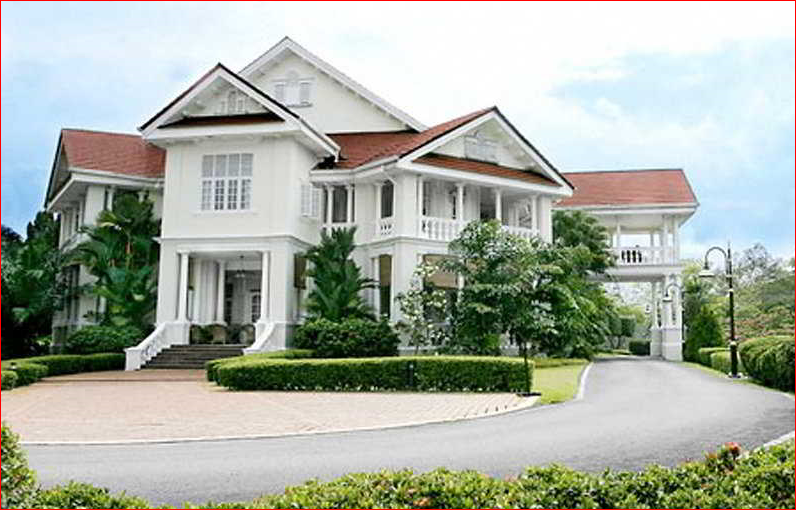 By the way, in the film, the stuffed tiger was in the house. It was fake created from foam and fur in Thailand, but customs inspectors delayed the shipment because they thought it was an actual taxidermied animal.
[Gathering for bachelor and bachelorette party: Subang Airport]
Many celebs who are friends of Nick and Colin gathered to join bachelor and bachelorette party at a hanger of airport. Then they move to the party place by private helicopters.
That scene was shot at Subang Airport (Sultan Abdul Aziz Shah Airport) in Subang Jaya near Kuala Lumpur.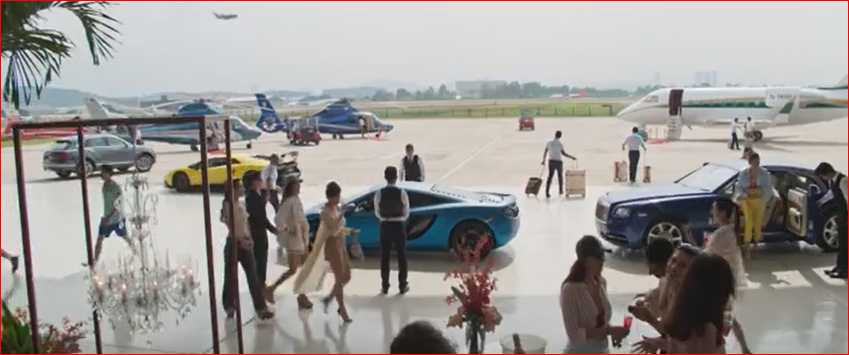 [Warner Bros.]
[Bachelor party on the open sea: Parking lot in Malaysia]
Nick and his rich friends headed to rented big container ship to have a bachelor party. Many beautiful girls were waiting there and they held big gorgeous party there.
That shot was taken at car park in Malaysia. (I think it is at MIECC in Serdang.)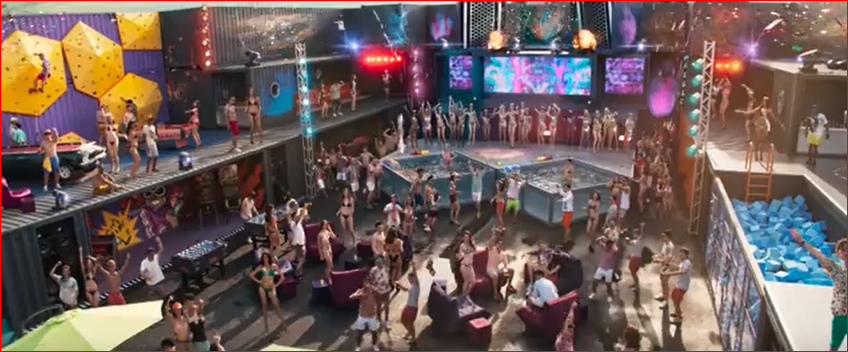 [Warner Bros.]
[Nick confides to Colin: Langkawi in Malaysia]
[Bachelorette party on a beach: Langkawi in Malaysia]
Nick and Colin escaped from the bachelor party on the open sea, they came quiet and beautiful beach to relax. It was Rawa Island in Malaysia. Then Nick confided to Colin that he is planning to propose to Rachel.
However, this scene was not shot in Rawa Island, because of the over budget. They actually took the shot in Langkawi in Malaysia. It means that they used same place as the next bachelorette party scene for girls.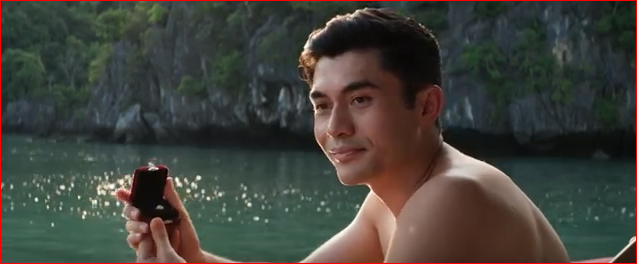 [Warner Bros.]
While men are in a bachelor party in other place, Rachel joined a bachelorette party.
It was taken in Langkawi. Especially, the luxury resort hotel they stayed was Four Seasons Resort in Langkawi.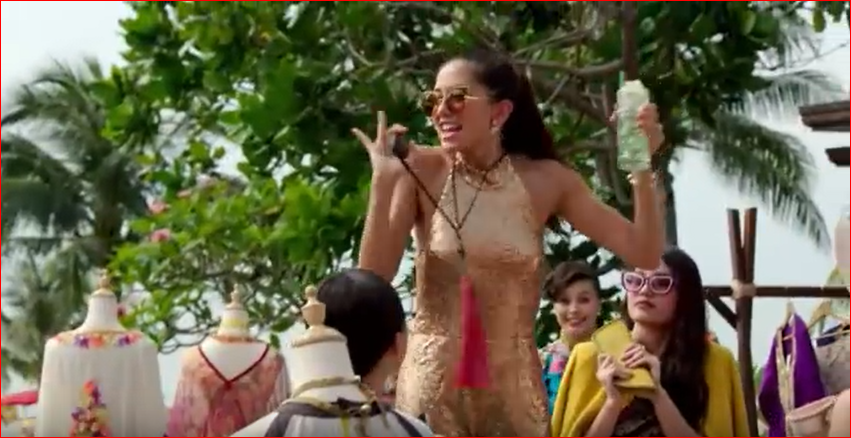 [Warner Bros.]
[ https://www.fourseasons.com/langkawi/ ]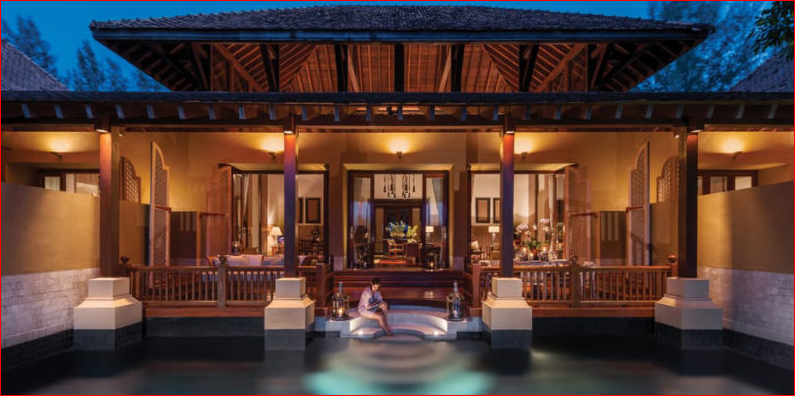 The next location details will be continued in Part 3. Next will be last part.
[ Link: The film locations of 'Crazy Rich Asians': Part3 ]
[ Original Japanese Site: http://blog.lab7.biz/archives/12004343.html ]