This time, I will introduce about Keynote of 'Unite Los Angeles 2018' which was held from October 23 to October 25 in Los Angeles, USA. The Keynote was live-streamed on the day, and now you can watch the video on YouTube below.
In this time, I will introduce in the order of the speech that was done in the Keynote, indicating the time that the next topic will start based on the video so that you can easily watch the parts of your interest directly.
【0:00:00:Preshow before Keynote start】
First of all, before starting Unite Keynote, there was 'Preshow' as same as that held in the last Unite 2018 Berlin.
Same as before, Liz Mercuri from Technical Evangelist and Will Goldstone from Product Manager were moderators. Highlights of Keynote and introduction of individual sessions were introduced by them. Even they are staffs of Unity, but they hosted very well every time. I thought that they are professional moderators.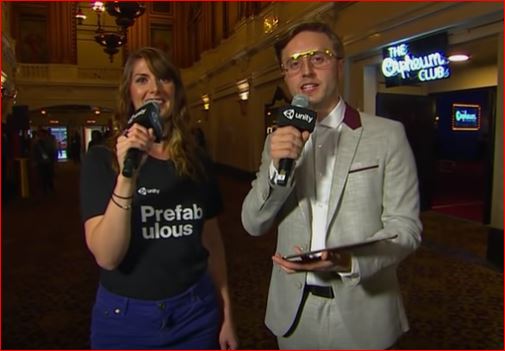 And they introduced two developers. One was Garth Smith, Lead Programmer of TIC TOC Games, developed "SMURFS BUBBLE STORY" used a new function ECS for improving the performance. And another was Anglea Haddad, One Third Blue's VR Creative Director, used Unity as VR Art to express Water color style in VR, AR.
【0:20:30:Start 'Unite Los Angeles 2018 Keynote'】
First of all, the first video we expected every time was shown for about 5 minutes.
【0:24:00:Opening speech by CEO】
The first speaker was Unity CEO John Riccitiello. He told Unity's Mission as usual, and then briefly introduced the technologies that Unity is focusing on, which will be shown concrete demonstrations and introductions after this.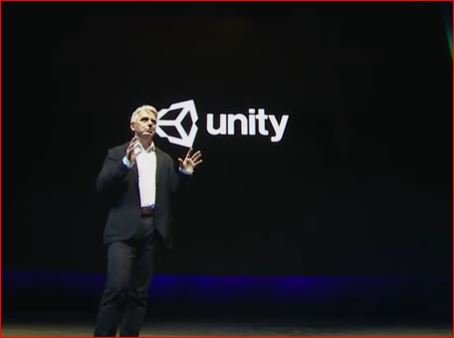 As a focused technology he mentioned, they're challenging to resolve performance issues by ECS, New C # Job System, Burst Compiler, and also focusing AI, machine learning. In addition to focusing on the gaming industry that he loves as well, he also emphasize other industries such as Film, Automobile, and Architecture industries.
【0:33:00:Case Study about AR】
Next to CEO, Timoni West who is Director of XR Research, Labs was appeared. Firstly, she mentioned about the whole schedule of Keynote this time.
And, regarding AR area as her specialty field, she introduced an example of "LYFT" which is providing a ride sharing service. As guest, Ethan Eyler (Head of Brand in LYFT) and Rick Davis (General Manager of REWIND) were introduced and they explained one AR software developed by them. As 'In Car Entertainment', they are developing an AR application that makes Driving more happy.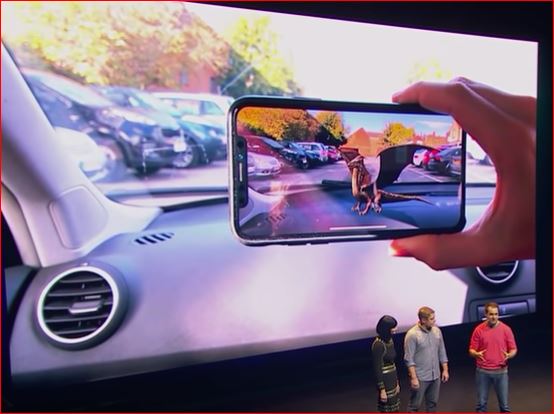 The developer said that it was very hard to fix the character in outside environment where it is static, different from a car moving at high speed. In normal AR, IMU is used for the positioning, but he said that they used GPS positioning system to deal with the speed of the car. It is implemented with ARCore, ARKit, Vuforia.
【0:42:00:Taking Best Shot by CineCast】
Next was Adam Myhill who is Creative Director, Made with Unity. He introduced a new function 'CineCast'.
In the past, Cinemachine was shooting with one camera at that timing, but CineCast can shoot with multiple cameras at the same time and take the best shot.
Then started demonstration for the function to understand clearly. As a guest, Stephanie Harvey, who had shined World Champion 5 times for 'Counter Strike', played the game live. The game was 'GTFO', and four players played GTFO behind the screen. Then she played the game live in accordance with what was filmed by the CineCast.
The game live seemed like watching scenes of actual movie film, and it was full of presence.
In short, 'CineCast' is a function to capture the 3D space in the game like an actual real space and to take the best picture from every angle with many cameras. Multiple cameras follow each character individually and take a lot of images from a good angle in that scene. You can select the best image from all of them and you can take the best shot. In the function, AI is utilized. In this GTFO example, 800 cameras were used.
They also mentioned that this CineCast could be used as Cut Scenes, Replay Cameras, Casting, esports. Certainly in esports, this feature will match very well and I'm also expecting that the esports will be more exciting with this function.
I have introduced only half yet, but this time it is here. To be continued to next time.
【 Unite Los Angeles 2018:「Keynote」Part 2 】
【Original Japanese Site: http://blog.lab7.biz/archives/13687127.html】