I participated in 'Spark AR day -Southeast Asia' held at Facebook APAC office in Singapore on the afternoon of March 28th. In last 2 times, I reported the beginning and the middle parts of the event. This time, I'll continue to report the last part of this event. (The link of the 2 previous reports of this event are followings.)
[ Report about joining 'Facebook Spark AR day -Southeast Asia' Part.1 ]
[ Report about joining 'Facebook Spark AR day -Southeast Asia' Part.2 ]
I've already introduced about 【1. Features of Spark AR】, 【2. Case Study of AR Business】, 【3. How to build a brand using Spark AR】, and this time it's from 4.
【4. Management for Spark AR Project】
Thinh Le (Facebook Strategic Partnership Manager) was on the stage. He explained the standard process of the project using Spark AR.
First, explain why you should use Spark AR. First, we can provide Facebook, Instagram users (2.3 billion users) by Spark AR. (Before, another speaker said 1.5 billion, it's daily active users 1.5 billion. However monthly active users are 2.3 billion as of February 2019.)
And we can provide it to both Android and iOS. It's easy to create using Spark AR Studio. It can be provided in an optimized form for each user with Facebook information.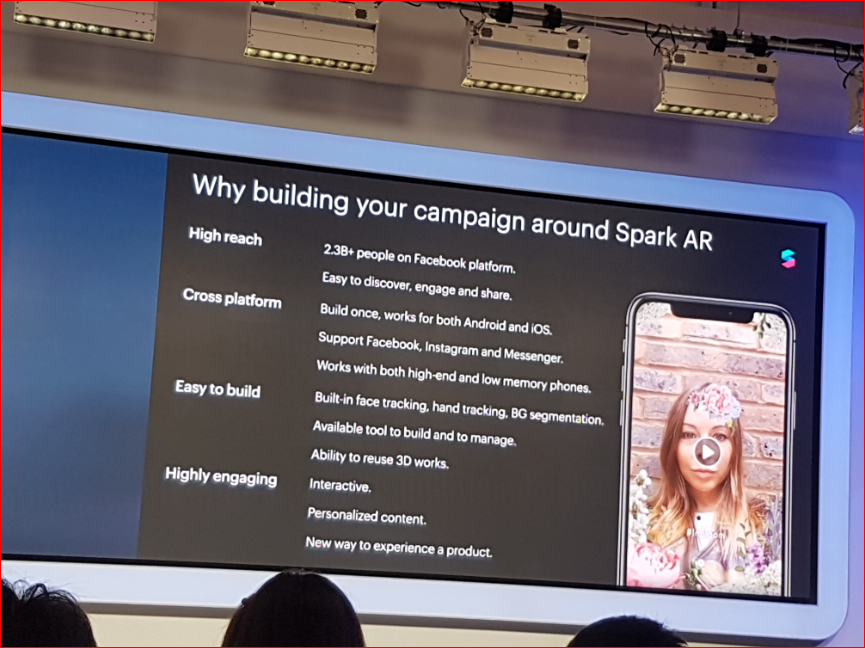 Next, about how to proceed with the project. In general, in a Spark AR project, need to performs five steps: Plan, Create, Deploy, Promote, and Measure.
First, about 'Plan'. Decide about Who, how, what, and the result about that.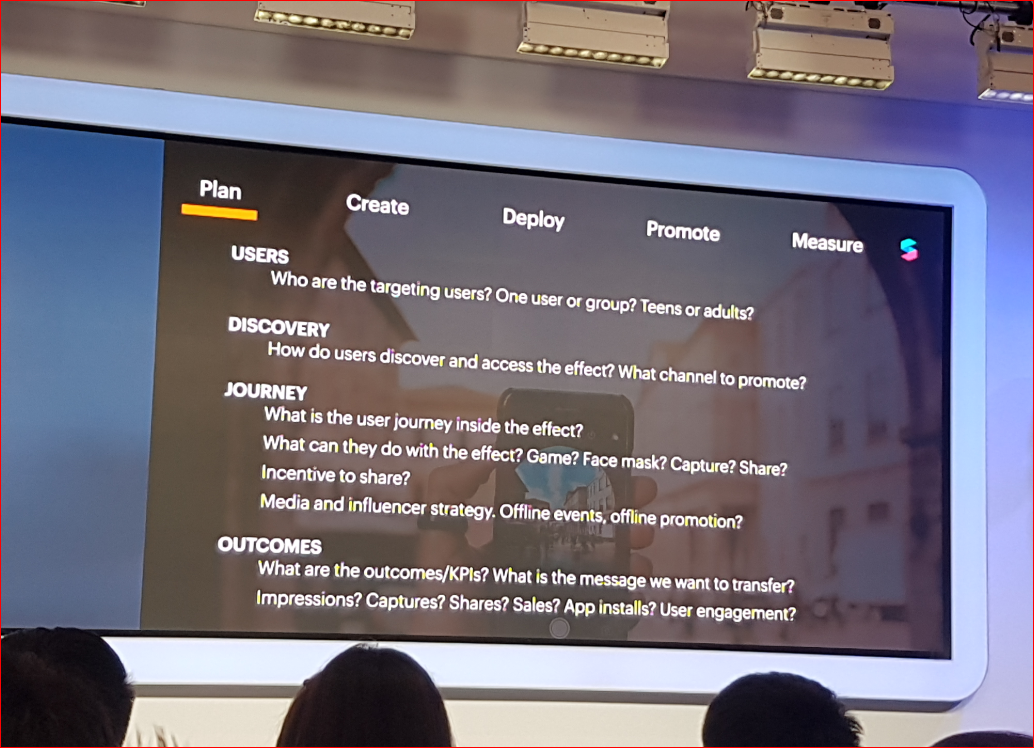 And about 'Create'. Development and Test. (Refer to the slide for the notes.)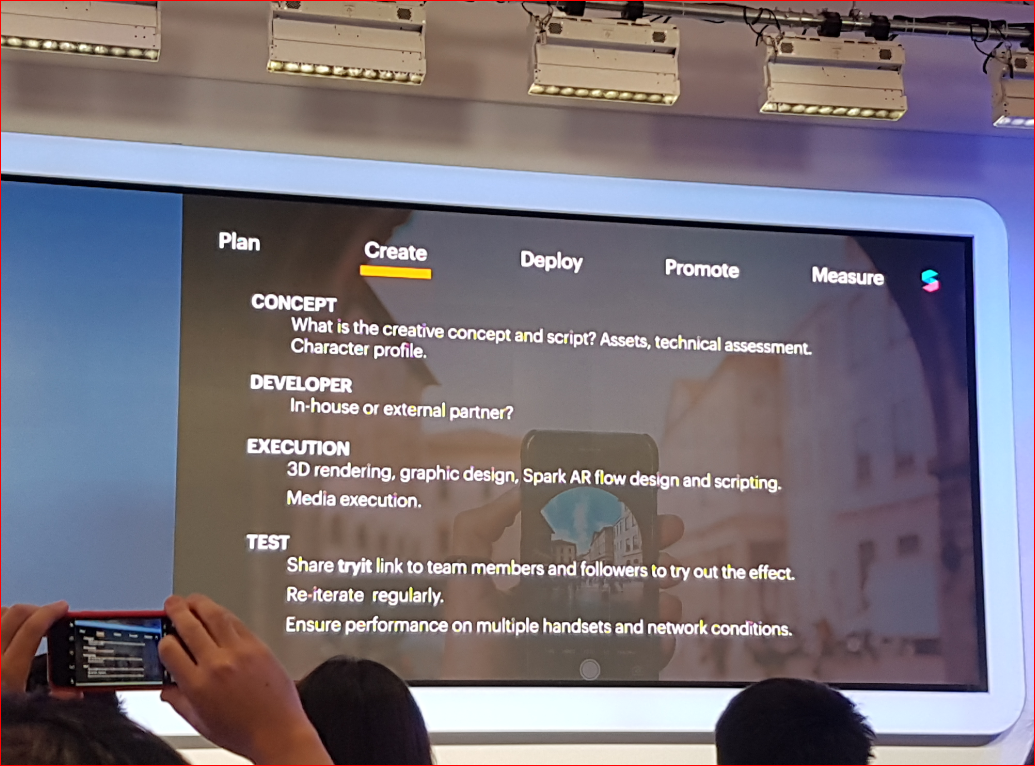 About 'Deploy'. You need a Facebook review to release it. (It looks like Apple's reviewing when you release your app to the Apple Store.) It takes 24 to 72 hours, so I think it's not automatic process like Google Play.
About 'Promote' after releasing. Provide information to fan pages, advertisements and influencers. Distribute QR codes in product packages, posters, brochures, etc.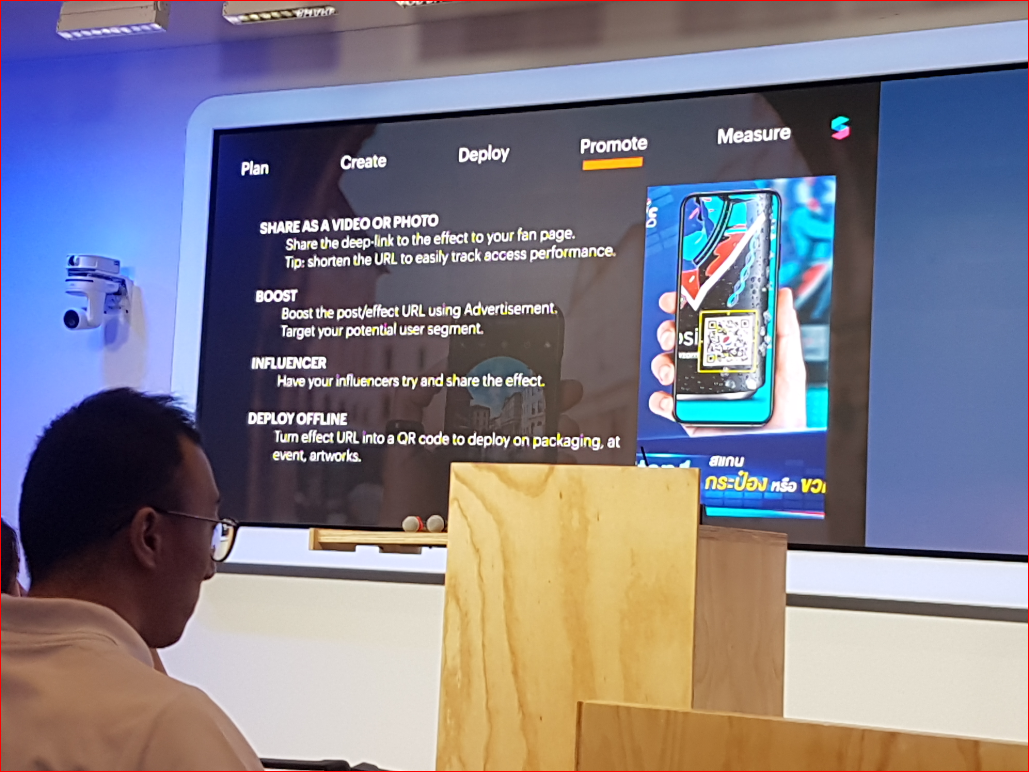 And finally, 'Measure'. Check and analyze important indicators such as Impression.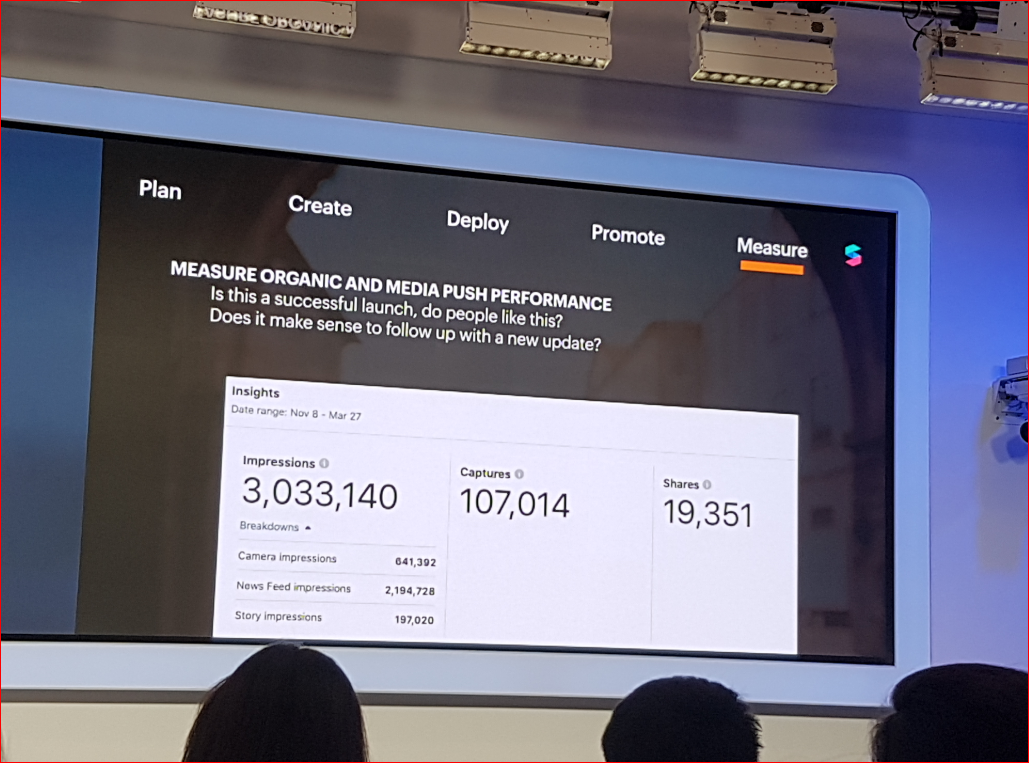 Next, Pepsi's 'Pepsi Music Challenge' which is an example of a successful project using Spark AR.
Move to AR site with QR code attached to Pepsi product and sing local hit song in karaoke style. At that time, you take a video by yourself, and put some images and change the background in AR, and apply it to the site.

A campaign held in Vietnam at the time of AFF CUP 2018 (Asean football tournament). (Vietnam national team won in 2018.)
Share your own video to support Vietnam national team touched up with AR.

【5. How to create AR with Spark AR Studio】
Lastly, Sean Blair (Partner Engineer) gave an demonstration to create AR using Spark AR Studio.
First of all, he explained that Spark AR Studio uses Visual Programming, so it is very easy to create AR. It is very easy to understand by this slide.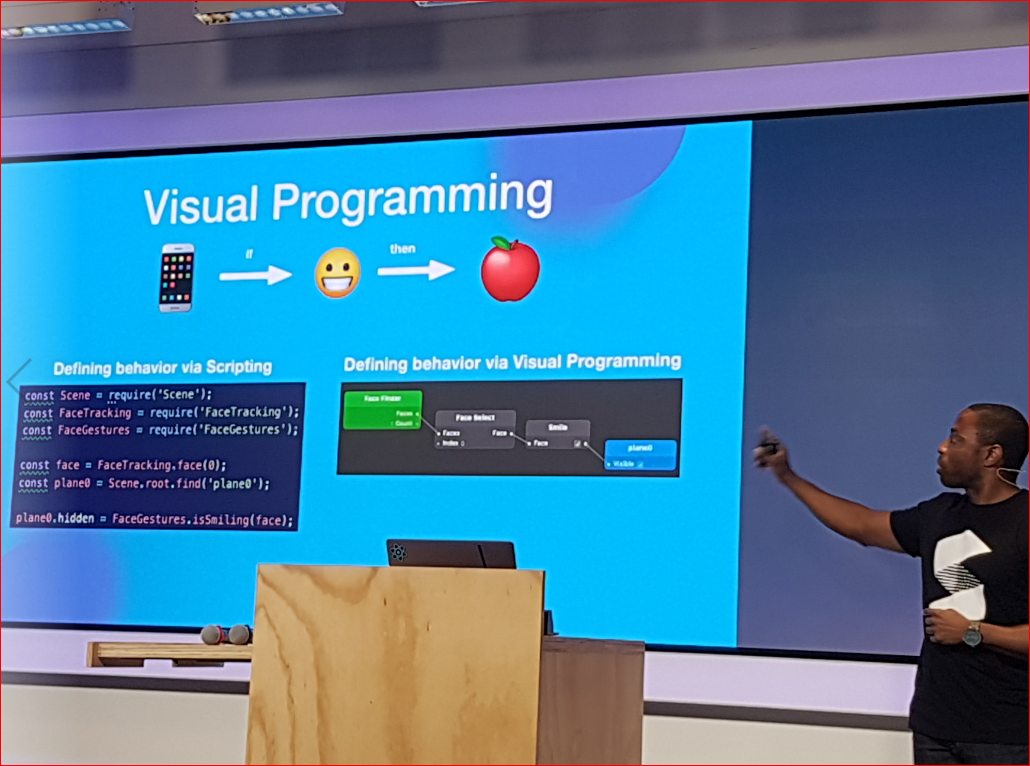 And he started to show the actual implementation. The demonstration that recognized the face and put on sunglasses.
Here, I will not explain in detail the setting, but he started from the creation of the project, there was not so much setting area, and he completed to make face recognition and display 3D objects in a short time. It was Visual Programming without Coding.

The completed screen is below. Do you notice? Because the face was completely traced and treated as a three-dimensional face, 3D objects was hidden behind the face when the face was turned sideways.
The point is that it can be easily accomplished for tracing faces and hands accurately by Spark AR.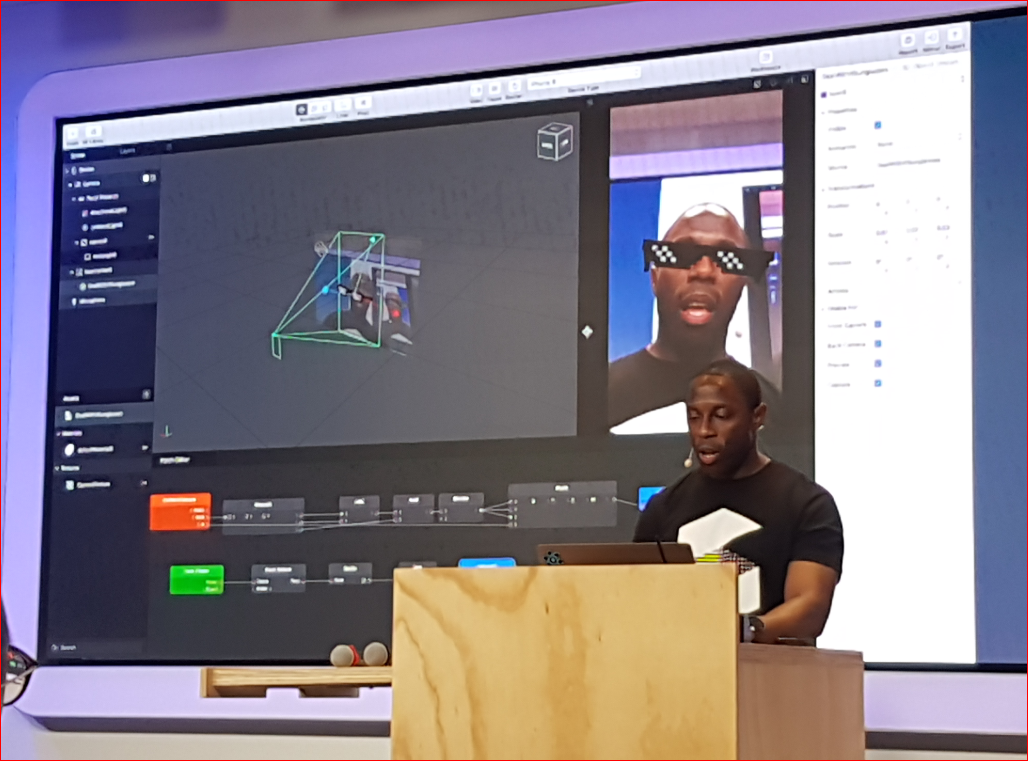 【Additional 2: Event venue】
Of course, the organizer of 'Spark AR day-Southeast Asia' was Facebook, so the venue was the office of Facebook APAC.
They provided drinks, foods and more for free in just free events for just 3 hours. Those were really delicious. Before, I've ever been to Facebook office when I participated Global Game Jam (Participation Report http://blog.lab7.biz/archives/6879962.html). In that time, they also provided free drinks and meals for breakfast, lunch and dinner. And at that time it was very delicious too. Facebook is a very attractive place to work!!
Also cool laptop case. Thank you Facebook.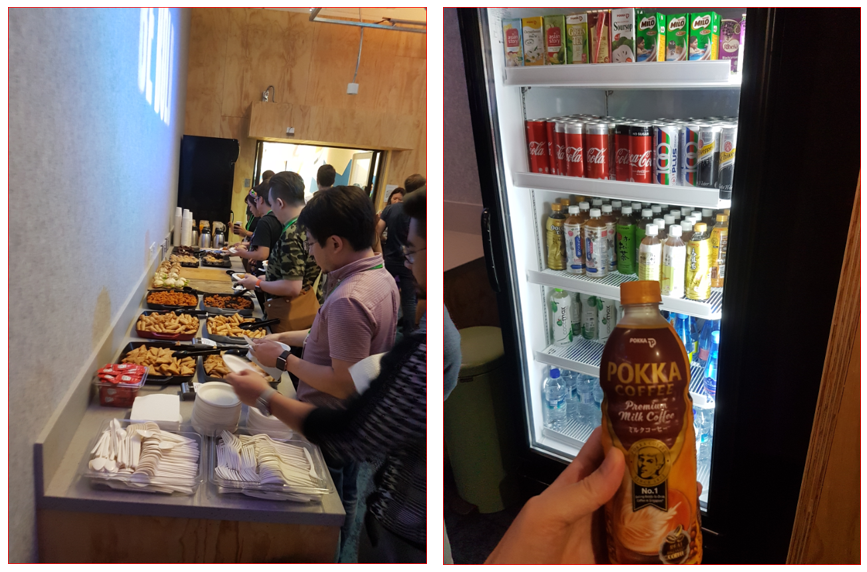 [ Original Japanese Site: http://blog.lab7.biz/archives/17312640.html ]