[About Unite]
"Unite" is the biggest periodic event for Unity. That is held at many big cities all over the world every year by Unity.
In Japan, the "Unite 2018 Tokyo" held from May 7 to May 9, 2018 this year at Tokyo International Forum. In Unite Toyo, there are many sessions as same as Unite of other countries, and almost all sessions are public on Youtube.
(You can check what kind of sessions were held there from following link.)
[Link: Unite 2018 Tokyo – Session Timetable]
This time, I'll introduce the Keynote held on May 7 2018. You can watch it from following link.
Firstly, Toyota Nobuo who is Country Manager of Unity had opening speech. (He was vice president of SEGA of America before, in that time, it's famous that he had really fierce battle against Nintendo in USA. He is legendary manager.)
[Release Unity Editor localized into Japanese]
After him, Omae Hiroki who is Regional Director came up to the stage, he explained typical topics of the beginning of keynotes, about Unity policies like the democratization of game development, and about market shares like 50% of mobile games are made with Unity.
And he also introduced ranking of U.S. Emerging Jobs Report which was introduced by John Riccitiello (Unity CEO) in GDC in USA. It's listed current popular jobs like Machine Learning Engineer, Data Scientist, Big Data Developer、Full Stack Engineer, and Unity developer ranked in No.7. In addition, only Unity developer was related to company's specific product in the list.
Finally Omae-san announced one big information about localization. Unity Japan released a resource for preview version of Japanese localization for Unity Editor 2018.1.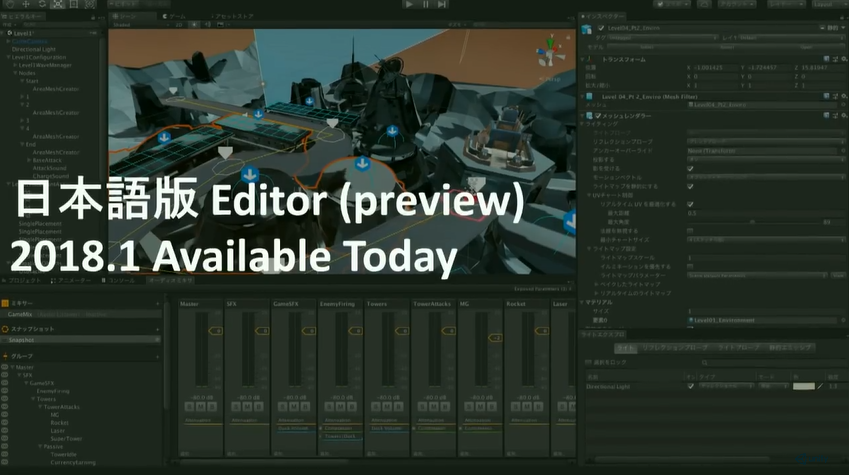 Honestly speaking, I don't want to use localized version, because I think there is a possibility to be unstable the editor, but this localiztion had been talked since long time ago, so it's a big one step.
However I also expect this Japanese edition will make kids to be easy to learn programming, because I'm really interested in programming education for kids using Unity.
[Released Probuilder, Shader Graph]
Next presenters were Carl Callewaert (Director of Evangelism) and Andy Touch (Global Content Evangelist). They explained some new functions which are released in Unity2018.1.
The first one is "Probuilder" which is 3D modeling tool and level design tool.
This is a tool to be possible to create not only simple 3D map modellings, but also the details within Unity. Then this "Probuilder" can corroborate with external tools, for example, it's also possible that firstly roughly create 3D map in Unity, and transfer it to Maya, in Maya the graphics are blushed up, and return back to Unity, we can finally set up the detail in Unity editor.
Andy had a demo that he modified the 3D map of future factory scene called 'Robot Factory' by Probuilder functions in Unity editor. He performed level design changing the meshes of the objects on 3D map in Unity editor. It looks like creating 3D game map using many kinds of functions of 3D modeling tool on Unity editor.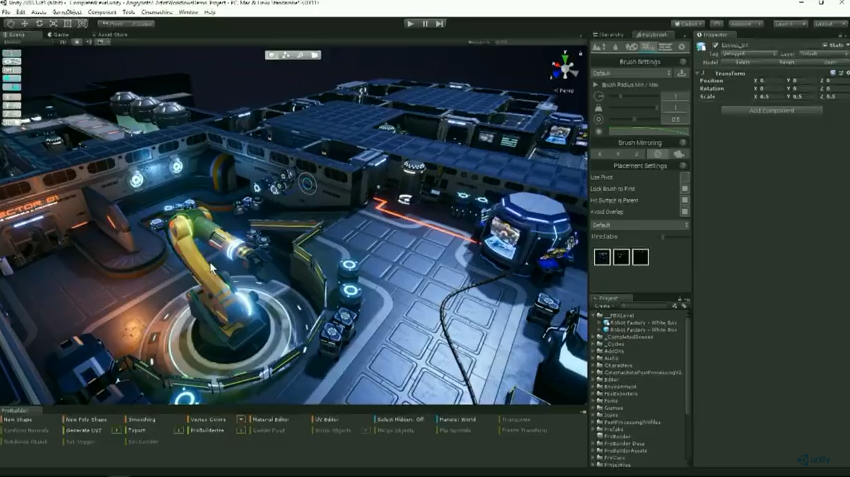 And next, Carl and Andy introduced and made demo for "Shader Graph".
This tool is for creating Shader intuitively without any scripts. Like liking some Nodes on Unity, create effects of custom shaders with checking the images of the shapes in the middle and also the final shapes.
In their demo, they modified the shader of the Robot Factory to be graphically suitable to the situation of the map.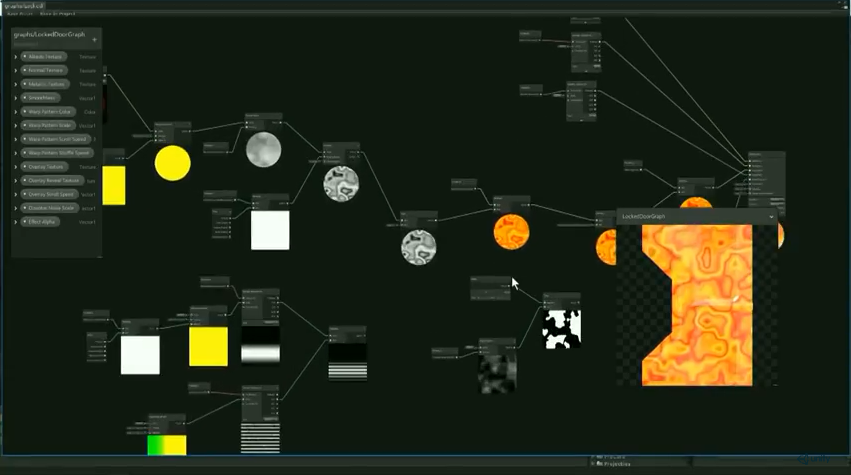 Next time, I'll introduce the 2nd part of this session. It will be continued until part 3.
[Link: Unite 2018 Tokyo:"Keynote" Part 2]
[Original Japanese Site: http://blog.lab7.biz/archives/9880224.html]