This image gave me a very big shock…
Because I'm individually creating and releasing game apps by Windows PC, for not only Android app, but also iOS app.
As you know, to build iOS app, we need Mac PC normally, but I don't have.
About the way to build iOS app in windows machine, I introduced it in this blog before.
[Link: How to release iOS app by Windows PC]
In the blog posting, I introduced the way which is kept necessary costs as low as possible. However, looks like the situation was changed a little.
[We can't use "Unity Cloud Build" freely anymore…]
The important point of the way is how to build the apps for iOS. For the building, I was using "Unity Cloud Build".
It's free before, but the Unity policy was changed.
Currently when I connect to Unity Cloud Build, following message are appeared, then it's impossible to click Build Button.

I investigated and found that "Unity Cloud Build" became a part of "Unity Teams", it's the image of the top.
[The detail of "Unity Teams"]
You can easily understand the detail by following image.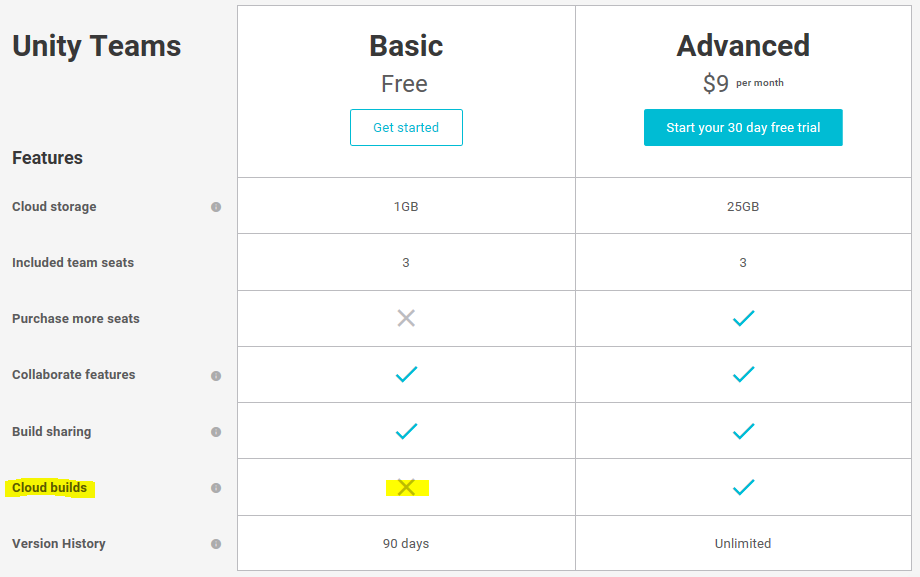 Please focus on the yellow line. "Cloud Build" was removed from Basic Free, and need to pay 9 USD every month as Advanced if we want to use it.
9USD… it's not so expensive, but I feel it's very expensive…
Because the reason I was using "Unity Cloud" is only to build app for iOS to release Apple store. I'm windows user, so mainly I create game app for Android, and then just rebuild it for iOS. (You know basically we need Mac PC to build for iOS.) So I don't' use Unity Cloud so many, for some months totally no use. However need to pay 10 dollar monthly…
What should I do? Should I buy Mac PC or use "Unity Teams"?
[Original Japanese Site: http://blog.lab7.biz/archives/7089005.html]